While it seems a bit early to write a year-end review of Santa Clarita real estate, I find I have the time during this Thanksgiving Day break, so I'm jumping in now!
TRENDS
The single biggest real estate trend for Santa Clarita is the same this year as last: limited inventory. While many sellers realize this is a good time to sell, they are afraid to re-enter the market as buyers themselves, as they aren't seeing any obvious 'move up' homes magically appear online or where they drive around. Since 2009, families have been staying put longer, undoubtedly due to the housing crash depleting many of their equity. This results in limited inventory as well.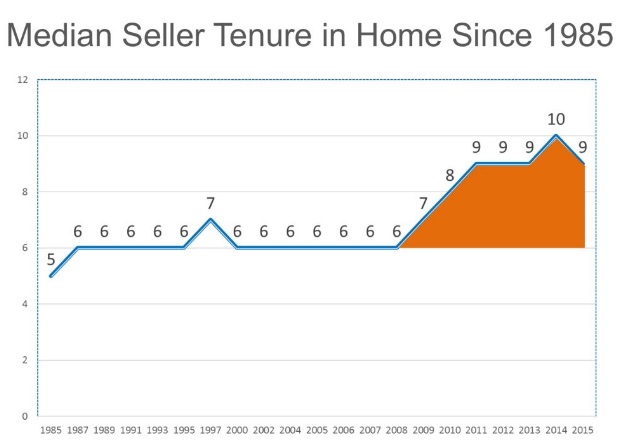 INTEREST RATES
Leave it to the press to get everyone's undies in a bunch about the sudden rise in interest rates, and how it will spell doom and disaster for prospective home buyers. They want us to freak out that rates rose to 3.97% this week. Anyone want to hazard a guess what the rate was a year ago today? 3.97%. Yes, it has been lower this year, and recently was at 3.79%, but the monthly difference to a buyer on the median priced Santa Clarita home for sale with 5% down is 48 dollars.
PRICES
Santa Clarita entered 2016 with all homes averaging out at $465,000 (median sold price) and as of Nov. 1, they are selling for an average of $487,500. That's up 4.8%.
The typical 2 bedroom condominium median sold price went from $246,750 in January to $288,000 now. That's a gain of $41,250. If you divide that by 12 months, your condo appreciated at a rate of $3437/month, which is probably DOUBLE your mortgage. YOU WERE LIVING RENT FREE! The amount of condos selling in the $300,00 and up range fell, while sales of cheaper $200-$300,000 condos rose in 2016.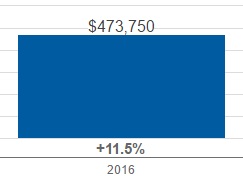 The typical 3 bedroom 2 bath single family detached home went from $450,000 in January to $470,000 now. Not as luxurious a ride as condos, but equity was added nonetheless. Year over year, prices rose 11.5% for a home like this. By far, the price point in highest demand in the SCV, were homes in the $450,000 to $550,000 range.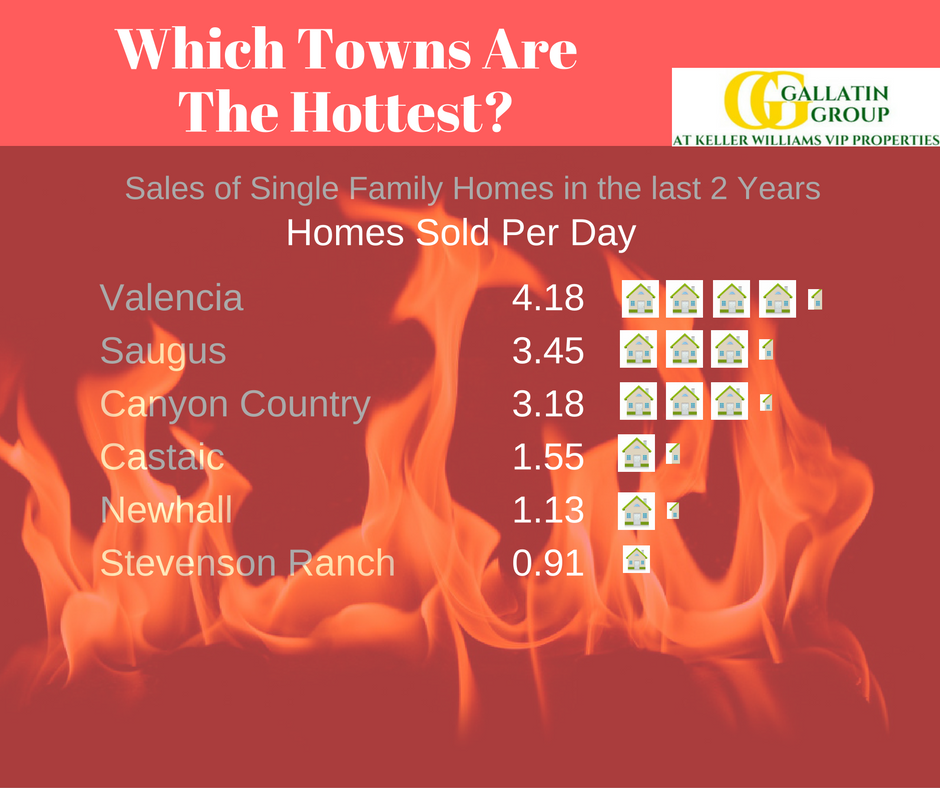 DEVELOPMENTS
West Creek and West Hills officially became part of Santa Clarita.
Plans were made public to build a Laemmle art house movie theater in Old Town Newhall.
Developers broke ground on a large new pedestrian/sustainability-oriented neighborhood called Vista Canyon. Located near Lost Canyon and Sand Canyon in Canyon Country, this will be a "New Valencia" complete with an eventual Metrolink stop, thousands of square feet of mixed-use retail and residential space similar to that seen near the Valencia Town Center.
Five Knolls continued its sizable build-out along the Canyon Country/Saugus "border". There are 6 different subdivisions there, all under construction. (By the way, I can help you with new homes as well.)
Castaic High School will break ground in January 2017.
Measure M passed, which will eventually bring at least $3 million annually to fill potholes; to pave roads; to synchronize signals; to improve intersections. It will widen the 4 from the 14 to Lake Hughes Road. The High Desert Corridor will also be built, connecting Palmdale to the 15 'for real.'
INVENTORY
As I mentioned earlier, inventory is tightening, for a variety of reasons. In January, a total of 1,257 homes were on the MLS at some point, with 760 homes selling. This means 60.5% of the homes available were snatched up. In October, 1406 homes were available and 1100 of them were purchased. This 78.2% sales rate means only 22% of the homes you see on the MLS are available a few weeks later. Tight!
SCV Vs. THE WORLD
Santa Clarita remained a solid bargain compared to both the San Fernando Valley and most of California.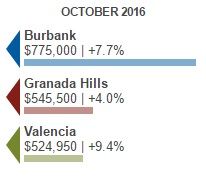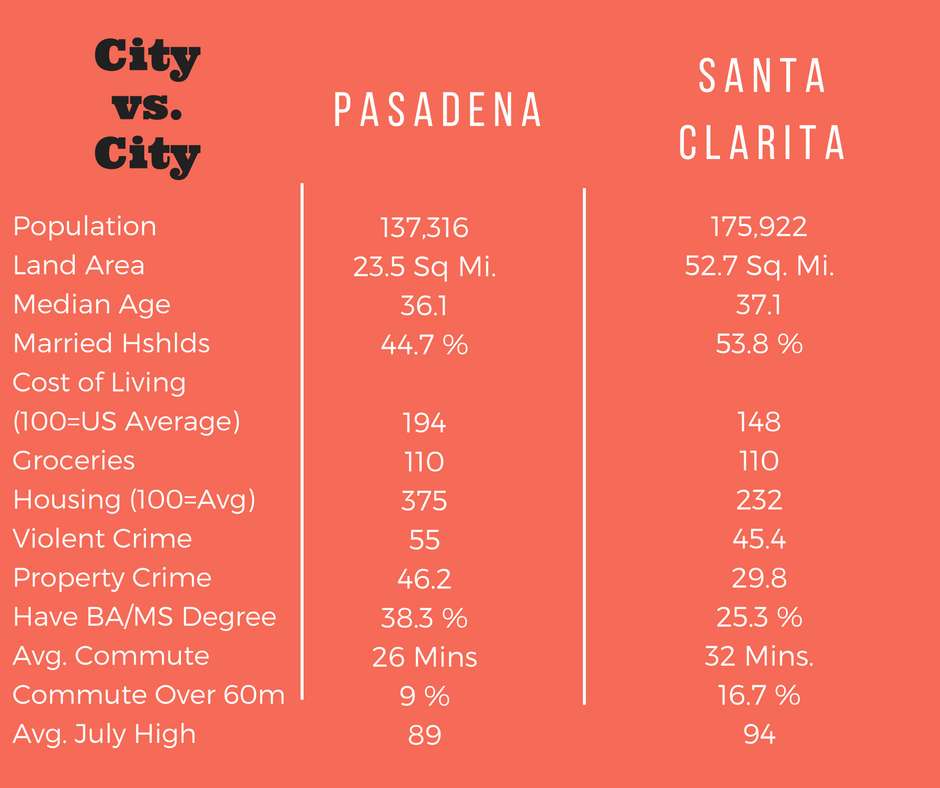 ABOVE: A few reasons Santa Clarita pulls new home buyers away from older cities like Pasadena: lower costs and crime.
Home prices rose through most of California between 7 and 8% depending on which of the many sources you read. Santa Clarita.
Within the SCV, single family home prices rose 4-10% as shown below:

Condominiums and town houses rose at quite a higher clip, and likely will continue to do so, as buyers are priced out of the upper end, leading to feeding frenzy's for these entry-level priced homes.

WHAT NEXT?
2017 is projected to see prices rise by a more modest 4% by both the National Association of Realtors and the CAR. With a new administration in place, there might be a few turbulent months early in the year, as banks and lenders try to adjust their lending programs to compete in the Trump era. If you have even the slightest of questions raised by what you've read, I'd welcome the chance to chat with you. I'm buying the coffee!