As parents across the Santa Clarita Valley attend various Back-To-School Nights, many wonder in the back of their minds: "Is my child going to the best possible school he can, within reason?" I drive by a billboard every day touting Legacy Christian Academy's recent designation as a Blue Ribbon School, and smile, knowing our tuition spent there on our son was a great investment. He is in college with a GPA above 3.5 now.
Many years ago, we moved to Santa Clarita BECAUSE of the reputation of the public schools here, only to ironically enroll our son in a private school. We lived in Canyon Country at the time, and the vibe from the elementary and junior high schools at the time was worrisome. The schools looked okay enough, but the preponderance of portable classrooms and temporary this-and-thats made it look like these schools were not keeping up.
That was 15 years ago. Since then, how have things changed?
That is the question I sought for today's article. It is the first of 3 on this topic. (Friday, I will show greatschools results for HS and JHS, and next week, I will tackle our many elementary schools in Santa Clarita.
Everyone seems to have heard of greatschools.org. I wanted to rely on more than just one source to worry or elate our readers about our findings. So, I also used the results from schooldigger.com, for today's article.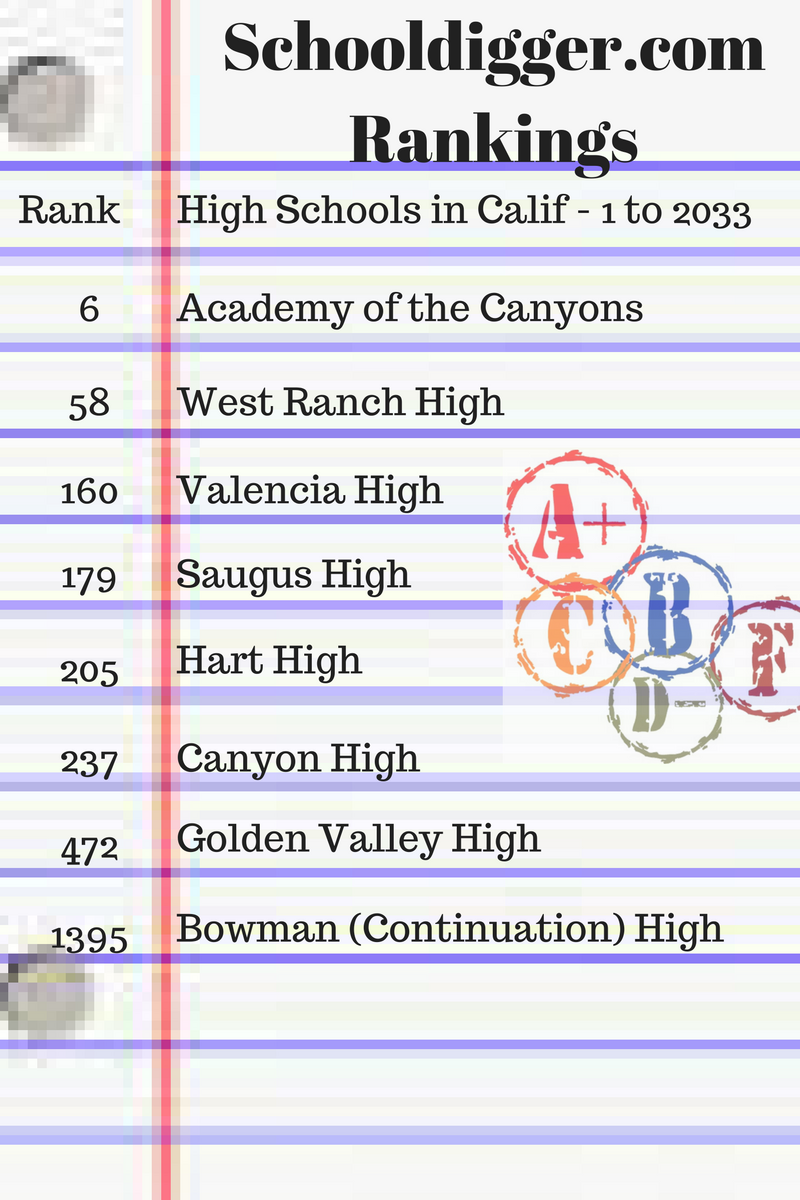 Now, before anyone concludes anything, realize that ALL 6 major high schools in Santa Clarita placed in the top 25% statewide in these results. All received 4 stars or better out of 5. All had test scores in English proficiency above 72%. Math? Well, um… see.. the thing is….. Santa Clarita schools still have a ways to go on mathematics skills.
(Search for homes near Valencia HS)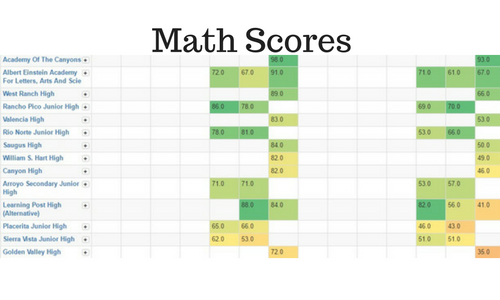 Junior High Schools in Santa Clarita fared slightly worse, as La Mesa JHS failed to get at least 4 stars. Rancho Pico JHS in Stevenson Ranch led the way with a ranking in the Top 100 out of 2,409 California junior high schools.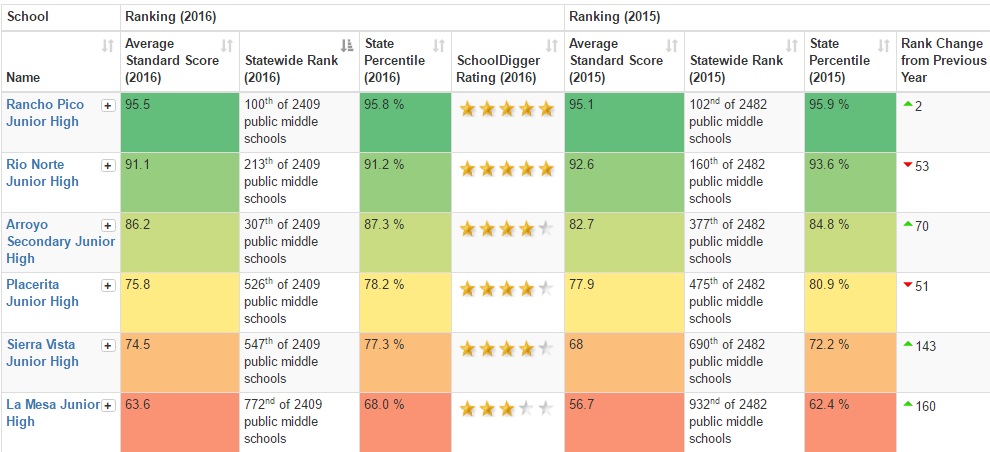 (Search for homes near Rancho Pico Junior High)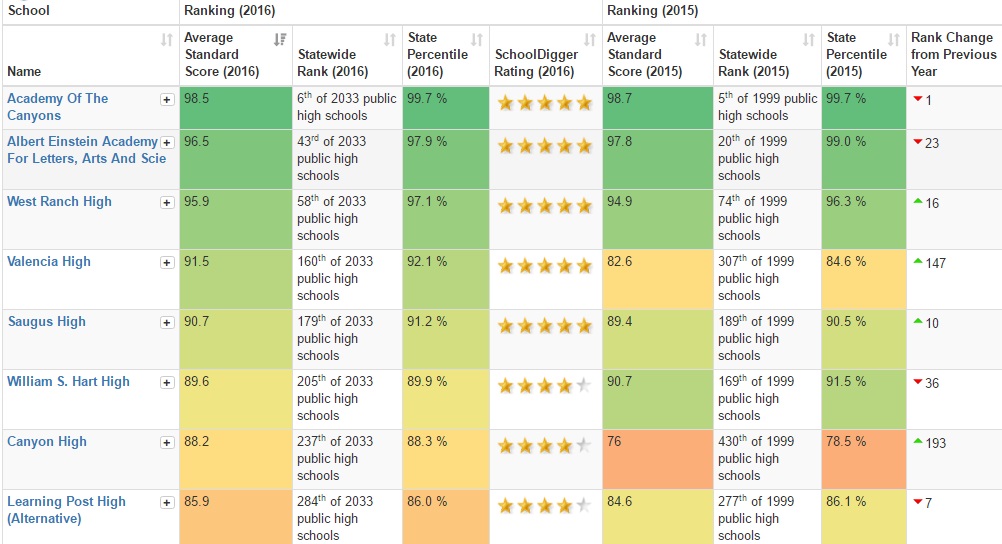 The full results from schooldigger are above. There is room for improvement in just about any school district, and Valencia High School and Canyon High School have made the biggest strides in the last year, both surging over 100 places higher in the rankings from a year ago. Valencia jumped from 307 up to 160 in the rankings while Canyon jumped from 430 all the way to 193. At the junior high level, Sierra Vista and La Mesa made great strides in the last year as well, with La Mesa climbing from 932 to 772 in just a year. Sierra Vista Junior High leapt from 690 to 547 this year.

As always, involvement from parents outscores almost anything the schools can provide. Homeowners should pay attention to these scores even if they have children who have already graduated, as school scores play a significant role in home price evaluations. They really do. According to the report from RealtyTrac:
"Out of 1,661 zip codes with at least one good school, the average estimated home value as of July 2016 was $427,402, 77 percent higher than the average home value of $241,096 in 2,774 zip codes without any good schools...Meanwhile, home prices in zip codes without any good schools tend to be more volatile" the report said.